Serie A
Football News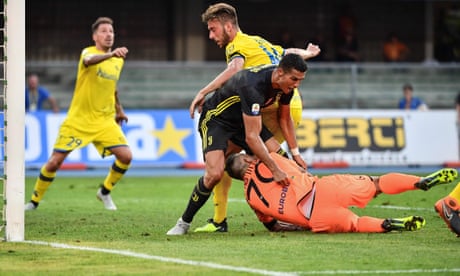 Serie A
Aug 19, 2018
Cristiano Ronaldo's Juventus debut ends in dramatic late win at Chievo
Juventus came from behind to snatch a dramatic 3-2 win at Chievo as...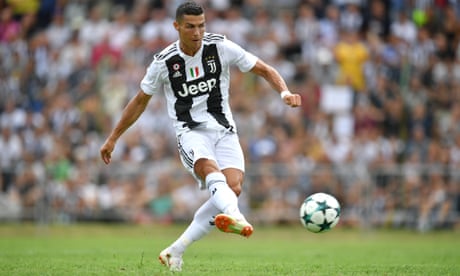 Serie A
Aug 17, 2018
Juventus's Cristiano Ronaldo heralds lift in Serie A mood for new season | Paolo Bandini
Transfer coup means Juve want to win the Champions League while Inter are...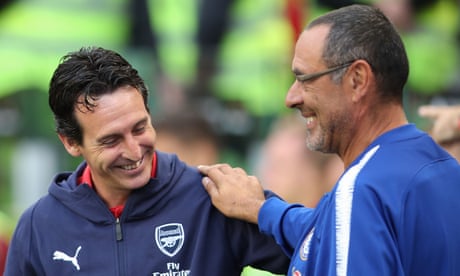 Football
Aug 10, 2018
Football quiz: are you up to speed on the managerial merry-go-round?
A lot of Europe's big clubs have appointed new managers for the season...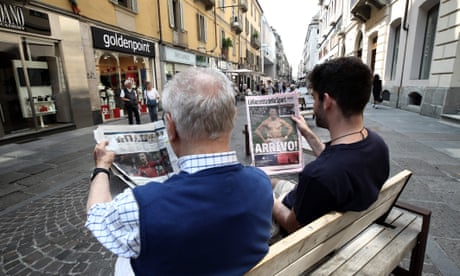 Serie A
Jul 23, 2018
More historic Italian clubs go bust ... while Juventus sign Cristiano Ronaldo
Juventus agreed to pay in wages while Bari had their water cut off over a...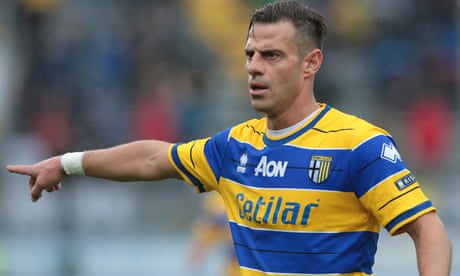 Parma
Jul 23, 2018
Parma's Emanuele Calaiò banned for match-fixing as club are docked points
Forward sent messages to rival team before promotion matchParma will...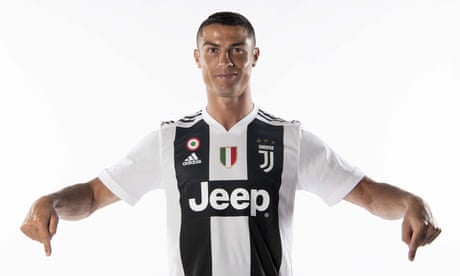 Cristiano Ronaldo
Jul 17, 2018
Ronaldo ready for 'brand new challenge' after Juventus unveiling – as it happened
Portuguese star says €100m move to Serie A club was the only offer he...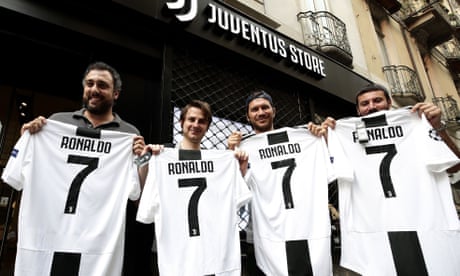 Cristiano Ronaldo
Jul 11, 2018
Cristiano Ronaldo for €100m at 33? Indulgence or Juventus masterstroke? | Paolo Bandini
To pay such a sum for a player surely past his peak seems a risk but the...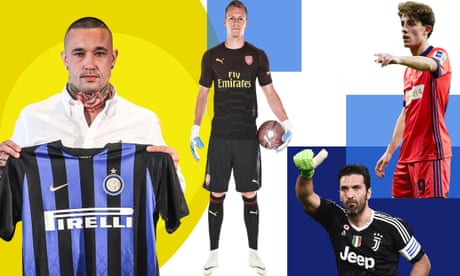 Transfer window
Jul 09, 2018
Transfer window: deals you may have missed because of the World Cup
While events in Russia have hogged the headlines, the market has rolled...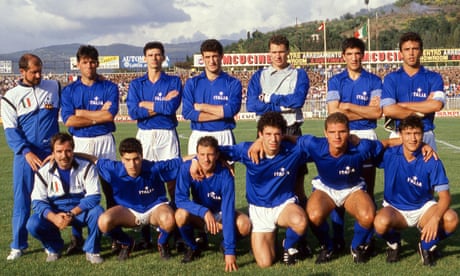 Italy
Jun 27, 2018
When Italy players did national service – at the Military World Cup
Gianluca Vialli won the Military World Cup in 1987 while on national...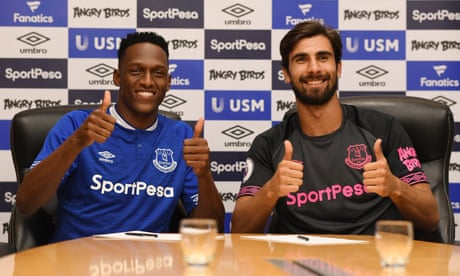 Transfer window
Jun 03, 2018
Transfer window 2018 – every summer deal from Europe's top five leagues
All the deadline day Premier League moves plus the latest deals and...
Serie A Table
| P | Team | GP | W | D | L | F | A | Pts |
| --- | --- | --- | --- | --- | --- | --- | --- | --- |
| 1 | Juventus Turin | 38 | 30 | 5 | 3 | 86 | 24 | 95 |
| 2 | SSC Napoli | 38 | 28 | 7 | 3 | 77 | 29 | 91 |
| 3 | AS Roma | 38 | 23 | 8 | 7 | 61 | 28 | 77 |
| 4 | SS Lazio | 38 | 21 | 9 | 8 | 89 | 49 | 72 |
| 5 | FC Internazionale Milano | 38 | 20 | 12 | 6 | 66 | 30 | 72 |
| 6 | AC Milan | 38 | 18 | 10 | 10 | 56 | 42 | 64 |
| 7 | Atalanta BC | 38 | 16 | 12 | 10 | 57 | 39 | 60 |
| 8 | ACF Fiorentina | 38 | 16 | 9 | 13 | 54 | 46 | 57 |
| 9 | Torino FC | 38 | 13 | 15 | 10 | 54 | 46 | 54 |
| 10 | UC Sampdoria | 38 | 16 | 6 | 16 | 56 | 60 | 54 |
| 11 | US Sassuolo Calcio | 38 | 11 | 10 | 17 | 29 | 59 | 43 |
| 12 | Genoa CFC | 38 | 11 | 8 | 19 | 33 | 43 | 41 |
| 13 | Udinese Calcio | 38 | 12 | 4 | 22 | 48 | 63 | 40 |
| 14 | AC Chievo Verona | 38 | 10 | 10 | 18 | 36 | 59 | 40 |
| 15 | Bologna FC | 38 | 11 | 6 | 21 | 40 | 52 | 39 |
| 16 | Cagliari Calcio | 38 | 11 | 6 | 21 | 33 | 61 | 39 |
| 17 | SPAL Ferrara | 38 | 8 | 14 | 16 | 39 | 59 | 38 |
| 18 | FC Crotone | 38 | 9 | 8 | 21 | 40 | 66 | 35 |
| 19 | Hellas Verona FC | 38 | 7 | 4 | 27 | 30 | 78 | 25 |
| 20 | Benevento Calcio | 38 | 6 | 3 | 29 | 33 | 84 | 21 |