Serie A
Football News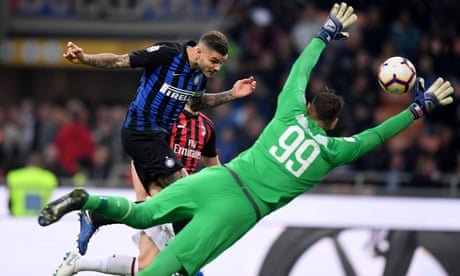 Serie A
Oct 22, 2018
Internazionale 1-0 Milan: Serie A – as it happened
Mauro Icardi heads home late winnerBoth sides see first-half goals...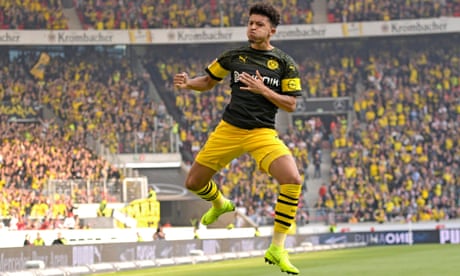 Bundesliga
Oct 21, 2018
Jadon Sancho and Reiss Nelson in the goals while Juventus lose 100% record
Sancho sparks Dortmund rout, Nelson hits two for HoffenheimJuve slip up at...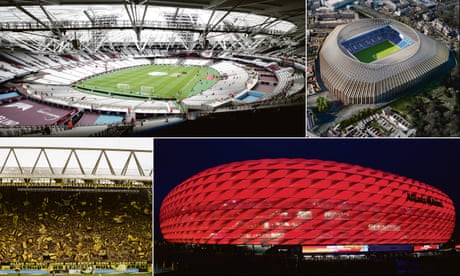 Football
Oct 19, 2018
What makes a great football stadium?
What makes Anfield better than Wembley? Why did Juventus fans hate the...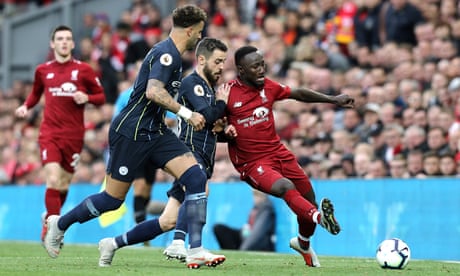 Pep Guardiola
Oct 11, 2018
No sign of Premier League procession as Chelsea and Arsenal up their games | Paul Wilson
Pep Guardiola's refusal to countenance a two-horse race for the title...
Serie A
Oct 08, 2018
Cristiano Ronaldo scoring for Juventus is just a goal, nothing else | Paolo Bandini
The Ronaldo case is bringing out the worst aspects of football's...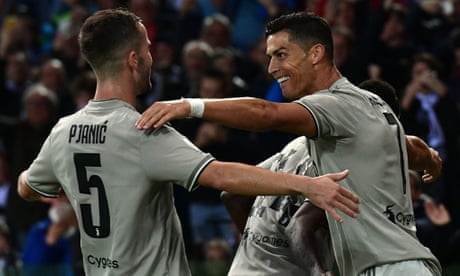 Serie A
Oct 07, 2018
Cristiano Ronaldo scores at Udinese to help keep Juventus at 100%
Ronaldo in action for first time since Der Spiegel articleJuventus have...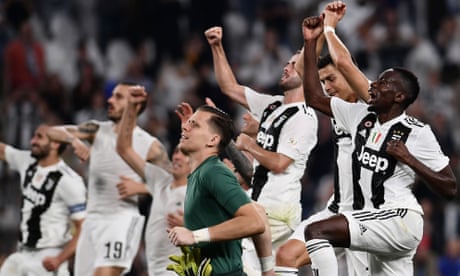 Serie A
Oct 01, 2018
Juventus in daunting form as Ronaldo turns provider against Napoli | Paolo Bandini
The record signing rediscovered some old wing wizardry as the champions...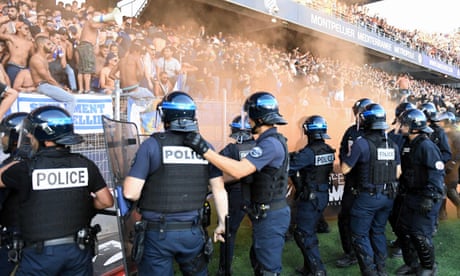 European club football
Oct 01, 2018
Crowd trouble and collapsed gate mars Montpellier's derby win over Nîmes
Referee halts game for 30 minutes because of disturbancesTwo people...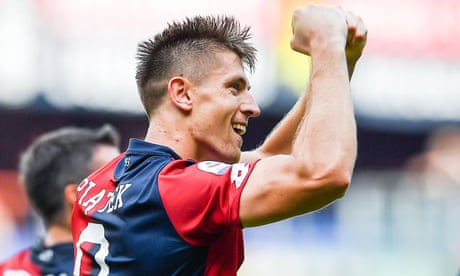 Genoa
Sep 27, 2018
Krzysztof Piatek's glorious run goes on as Genoa swat aside Chievo
The Rossoblu spent just €4.5m on the Polish striker but he is...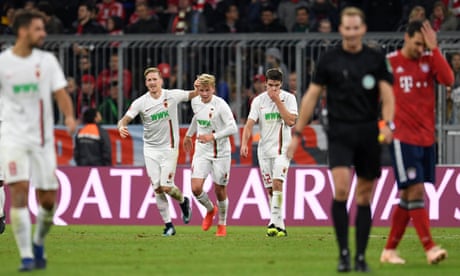 European club football
Sep 26, 2018
European roundup: Bayern's run ends while Inter scrape past Fiorentina
Bayern Munich held 1-1 at home by AugsburgInter win 2-1 with help from a...
Serie A Table
| P | Team | GP | W | D | L | F | A | Pts |
| --- | --- | --- | --- | --- | --- | --- | --- | --- |
| 1 | Juventus Turin | 38 | 30 | 5 | 3 | 86 | 24 | 95 |
| 2 | SSC Napoli | 38 | 28 | 7 | 3 | 77 | 29 | 91 |
| 3 | AS Roma | 38 | 23 | 8 | 7 | 61 | 28 | 77 |
| 4 | SS Lazio | 38 | 21 | 9 | 8 | 89 | 49 | 72 |
| 5 | FC Internazionale Milano | 38 | 20 | 12 | 6 | 66 | 30 | 72 |
| 6 | AC Milan | 38 | 18 | 10 | 10 | 56 | 42 | 64 |
| 7 | Atalanta BC | 38 | 16 | 12 | 10 | 57 | 39 | 60 |
| 8 | ACF Fiorentina | 38 | 16 | 9 | 13 | 54 | 46 | 57 |
| 9 | Torino FC | 38 | 13 | 15 | 10 | 54 | 46 | 54 |
| 10 | UC Sampdoria | 38 | 16 | 6 | 16 | 56 | 60 | 54 |
| 11 | US Sassuolo Calcio | 38 | 11 | 10 | 17 | 29 | 59 | 43 |
| 12 | Genoa CFC | 38 | 11 | 8 | 19 | 33 | 43 | 41 |
| 13 | Udinese Calcio | 38 | 12 | 4 | 22 | 48 | 63 | 40 |
| 14 | AC Chievo Verona | 38 | 10 | 10 | 18 | 36 | 59 | 40 |
| 15 | Bologna FC | 38 | 11 | 6 | 21 | 40 | 52 | 39 |
| 16 | Cagliari Calcio | 38 | 11 | 6 | 21 | 33 | 61 | 39 |
| 17 | SPAL Ferrara | 38 | 8 | 14 | 16 | 39 | 59 | 38 |
| 18 | FC Crotone | 38 | 9 | 8 | 21 | 40 | 66 | 35 |
| 19 | Hellas Verona FC | 38 | 7 | 4 | 27 | 30 | 78 | 25 |
| 20 | Benevento Calcio | 38 | 6 | 3 | 29 | 33 | 84 | 21 |