Premier League
Football News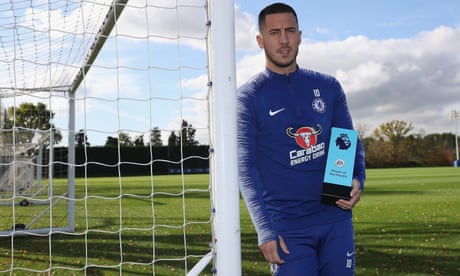 Football
Oct 19, 2018
Premier League returns with Chelsea v Man Utd: weekend countdown – live!
Team news and more before the weekend's matchesEmail . Tweet 12.40pm...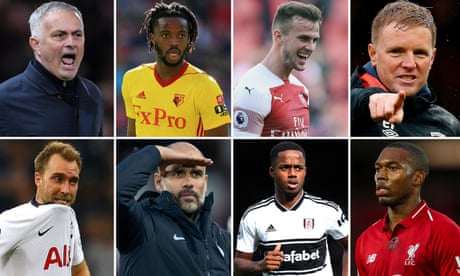 Premier League
Oct 19, 2018
Premier League: 10 things to look out for this weekend
José Mourinho will want to make a point at Stamford Bridge while Chris...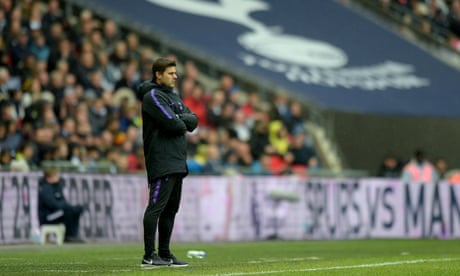 Mauricio Pochettino
Oct 18, 2018
'I have no regrets': Mauricio Pochettino on Tottenham's lack of transfers – video
Tottenham manager says he has no regrets about failing to add to his...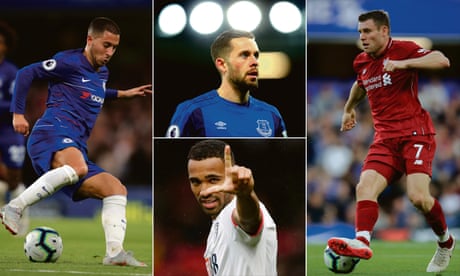 Premier League
Oct 18, 2018
The 10 most improved players in the Premier League this season
Eden Hazard, Gylfi Sigurdsson, James Milner and Callum Wilson have stepped...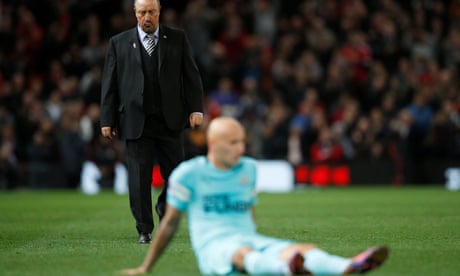 Premier League
Oct 17, 2018
Things already looking bleak for clubs near the Premier League basement | Paul Wilson
Huddersfield, Newcastle and Cardiff are all without a victory after their...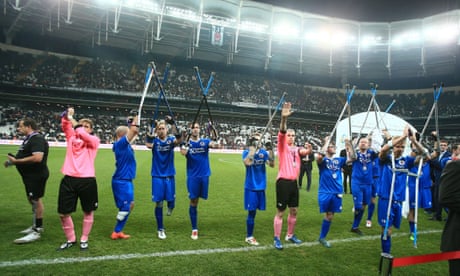 The FA
Oct 17, 2018
England amputees thank Premier League for World Cup funding after FA snub
Sponsors step in to finance side at tournamentFA says it will reconsider...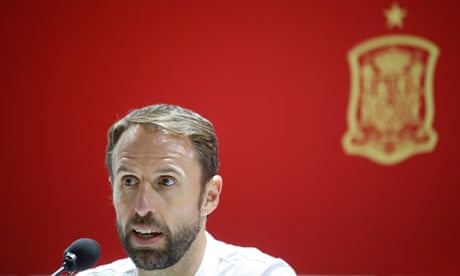 Nations League
Oct 15, 2018
Gareth Southgate claims Premier League season kicked off too soon
England manager says players are mentally fatiguedSouthgate sympathises...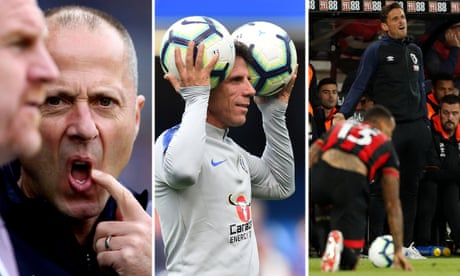 Premier League
Oct 14, 2018
Premier League assistant managers: who are they and what do they do?
One shares a flat with his boss, another is known as the manager's...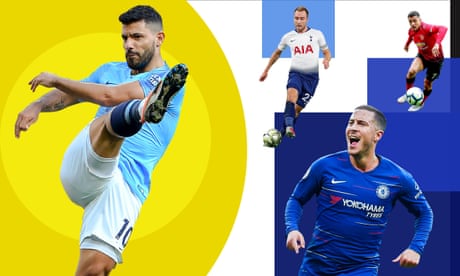 Premier League
Oct 12, 2018
How many world-class players does the Premier League actually have?
Harry Kane? Eden Hazard? Mo Salah? England's top division is unmatched...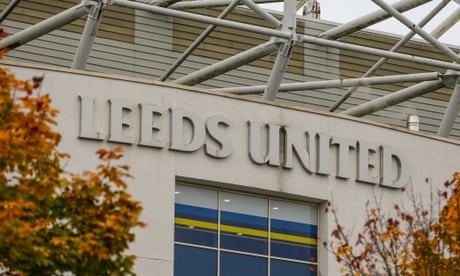 Leeds United
Oct 11, 2018
Leeds owner calls for a Premier League Two to replace Championship
Andrea Radrizzani says Championship is unsustainableRadrizzani claims lack...
Premier League Table
| P | Team | GP | W | D | L | F | A | Pts |
| --- | --- | --- | --- | --- | --- | --- | --- | --- |
| 1 | Manchester City FC | 38 | 32 | 4 | 2 | 106 | 27 | 100 |
| 2 | Manchester United FC | 38 | 25 | 6 | 7 | 68 | 28 | 81 |
| 3 | Tottenham Hotspur FC | 38 | 23 | 8 | 7 | 74 | 36 | 77 |
| 4 | Liverpool FC | 38 | 21 | 12 | 5 | 84 | 38 | 75 |
| 5 | Chelsea FC | 38 | 21 | 7 | 10 | 62 | 38 | 70 |
| 6 | Arsenal FC | 38 | 19 | 6 | 13 | 74 | 51 | 63 |
| 7 | Burnley FC | 38 | 14 | 12 | 12 | 36 | 39 | 54 |
| 8 | Everton FC | 38 | 13 | 10 | 15 | 44 | 58 | 49 |
| 9 | Leicester City FC | 38 | 12 | 11 | 15 | 56 | 60 | 47 |
| 10 | Newcastle United FC | 38 | 12 | 8 | 18 | 39 | 47 | 44 |
| 11 | Crystal Palace FC | 38 | 11 | 11 | 16 | 45 | 55 | 44 |
| 12 | AFC Bournemouth | 38 | 11 | 11 | 16 | 45 | 61 | 44 |
| 13 | West Ham United FC | 38 | 10 | 12 | 16 | 48 | 68 | 42 |
| 14 | Watford FC | 38 | 11 | 8 | 19 | 44 | 64 | 41 |
| 15 | Brighton & Hove Albion | 38 | 9 | 13 | 16 | 34 | 54 | 40 |
| 16 | Huddersfield Town | 38 | 9 | 10 | 19 | 28 | 58 | 37 |
| 17 | Southampton FC | 38 | 7 | 15 | 16 | 37 | 56 | 36 |
| 18 | Swansea City FC | 38 | 8 | 9 | 21 | 28 | 56 | 33 |
| 19 | Stoke City FC | 38 | 7 | 12 | 19 | 35 | 68 | 33 |
| 20 | West Bromwich Albion FC | 38 | 6 | 13 | 19 | 31 | 56 | 31 |