Premier League
Football News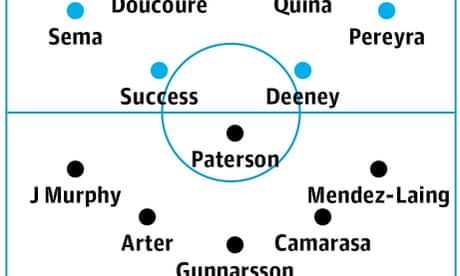 Watford
Dec 15, 2018
Watford v Cardiff City: match preview
Cardiff are going to lose or rather they will if the form book is to be...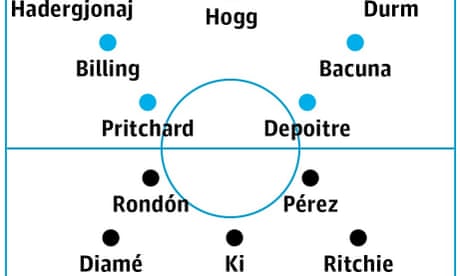 Huddersfield
Dec 15, 2018
Huddersfield Town v Newcastle United: match preview
Huddersfield have been playing well in recent weeks but face a challenge...
Tottenham Hotspur
Dec 14, 2018
Tottenham Hotspur v Burnley: match preview
Tottenham's physios will be busy before this match, with four defenders...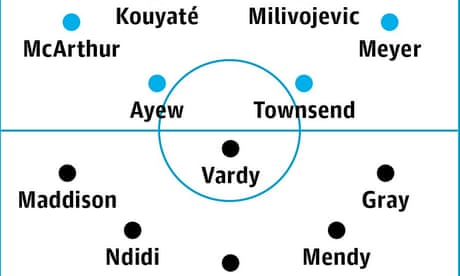 Crystal Palace
Dec 14, 2018
Crystal Palace v Leicester City: match preview
Crystal Palace won this fixture at a canter back in the spring, rattling...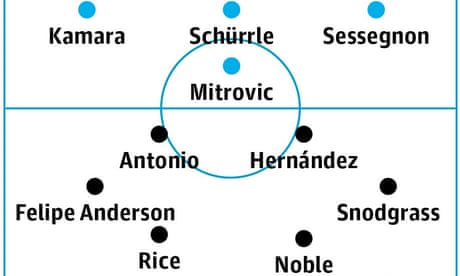 Fulham
Dec 14, 2018
Fulham v West Ham United: match preview
Fulham were desperately poor against Manchester United last time out but...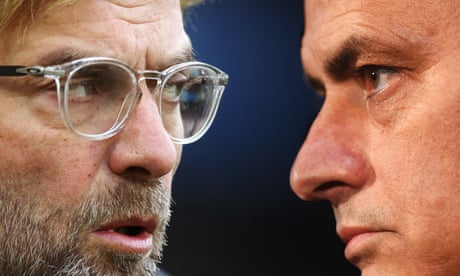 Football
Dec 14, 2018
Liverpool 'have to be angry' against Manchester United, says Klopp – video
The Liverpool manager Jürgen Klopp has said that his side will be angry...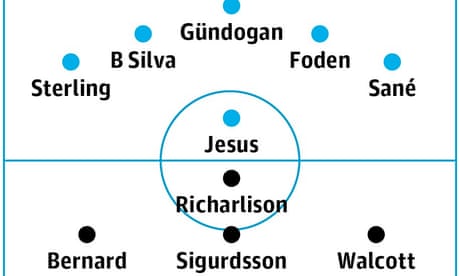 Manchester City
Dec 14, 2018
Manchester City v Everton: match preview
Manchester City welcome Everton in the unfamiliar position of not leading...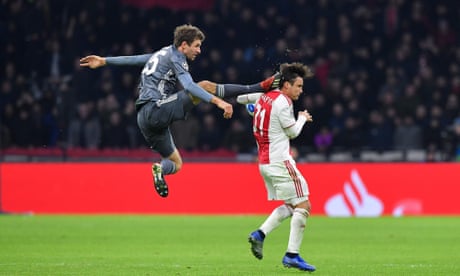 Sport
Dec 14, 2018
Sports quiz of the week: Champions League, Canelo and conspiracies
Who was big? Who doubted? Who scored Liverpool's penalties?What offer...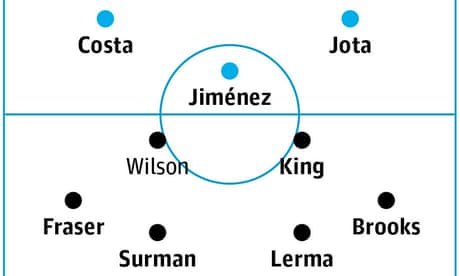 Wolverhampton Wanderers
Dec 14, 2018
Wolves v Bournemouth: match preview
Wolves are chasing a third successive win, thanks largely to Diogo...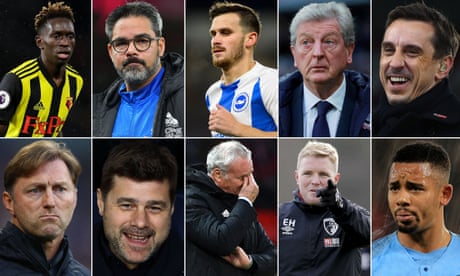 Premier League
Dec 14, 2018
Premier League: 10 things to look out for this weekend
A crunch clash at Anfield, depleted Palace and Huddersfield teams, and the...
Premier League Table
| P | Team | GP | W | D | L | F | A | Pts |
| --- | --- | --- | --- | --- | --- | --- | --- | --- |
| 1 | Manchester City FC | 38 | 32 | 4 | 2 | 106 | 27 | 100 |
| 2 | Manchester United FC | 38 | 25 | 6 | 7 | 68 | 28 | 81 |
| 3 | Tottenham Hotspur FC | 38 | 23 | 8 | 7 | 74 | 36 | 77 |
| 4 | Liverpool FC | 38 | 21 | 12 | 5 | 84 | 38 | 75 |
| 5 | Chelsea FC | 38 | 21 | 7 | 10 | 62 | 38 | 70 |
| 6 | Arsenal FC | 38 | 19 | 6 | 13 | 74 | 51 | 63 |
| 7 | Burnley FC | 38 | 14 | 12 | 12 | 36 | 39 | 54 |
| 8 | Everton FC | 38 | 13 | 10 | 15 | 44 | 58 | 49 |
| 9 | Leicester City FC | 38 | 12 | 11 | 15 | 56 | 60 | 47 |
| 10 | Newcastle United FC | 38 | 12 | 8 | 18 | 39 | 47 | 44 |
| 11 | Crystal Palace FC | 38 | 11 | 11 | 16 | 45 | 55 | 44 |
| 12 | AFC Bournemouth | 38 | 11 | 11 | 16 | 45 | 61 | 44 |
| 13 | West Ham United FC | 38 | 10 | 12 | 16 | 48 | 68 | 42 |
| 14 | Watford FC | 38 | 11 | 8 | 19 | 44 | 64 | 41 |
| 15 | Brighton & Hove Albion | 38 | 9 | 13 | 16 | 34 | 54 | 40 |
| 16 | Huddersfield Town | 38 | 9 | 10 | 19 | 28 | 58 | 37 |
| 17 | Southampton FC | 38 | 7 | 15 | 16 | 37 | 56 | 36 |
| 18 | Swansea City FC | 38 | 8 | 9 | 21 | 28 | 56 | 33 |
| 19 | Stoke City FC | 38 | 7 | 12 | 19 | 35 | 68 | 33 |
| 20 | West Bromwich Albion FC | 38 | 6 | 13 | 19 | 31 | 56 | 31 |