La Liga
Football News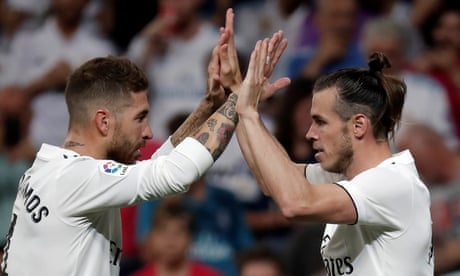 The FA
Oct 11, 2018
Uefa and FA discuss Eleven Sports showing La Liga on Saturday afternoons
Service set up by Leeds owner Radrizzani breaks broadcast banUefa talks...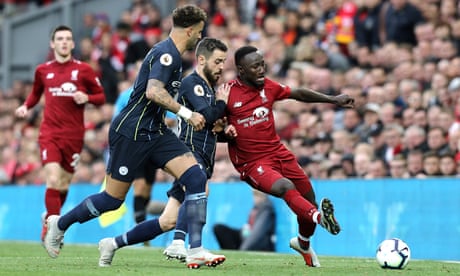 Pep Guardiola
Oct 11, 2018
No sign of Premier League procession as Chelsea and Arsenal up their games | Paul Wilson
Pep Guardiola's refusal to countenance a two-horse race for the title...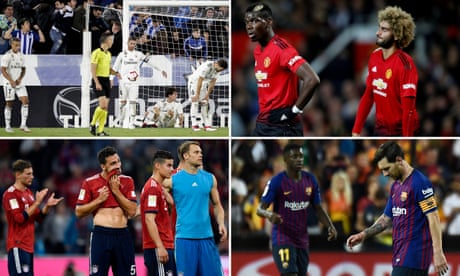 Football
Oct 09, 2018
A host of Europe's top football clubs are strangely out of sorts
Bayern Munich, Manchester United, Real Madrid and Barcelona have won 26...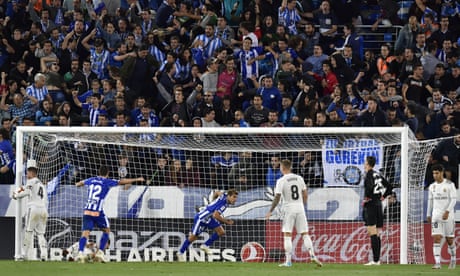 La Liga
Oct 08, 2018
Alavés revel in beautiful madness and pile pressure on Lopetegui's Madrid | Sid Lowe
Manu García's last-gasp goal gave Alavés their first home win over...
La Liga
Oct 08, 2018
Valencia 1-1 Barcelona: La Liga — as it happened
Lionel Messi equalised for Barcelona after Ezequiel Garay's early goal...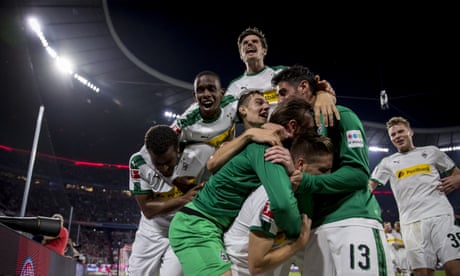 Bundesliga
Oct 07, 2018
Bayern thumped by Mönchengladbach, Dortmund win but Real shocked
Bayern slump to 3-0 defeat, Alcácer hits hat-trick for DortmundReal...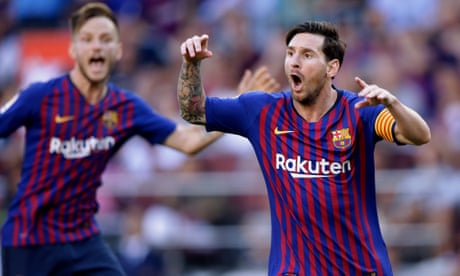 La Liga
Oct 01, 2018
La Liga: boring, uncompetitive and all that. Hang on … | Sid Lowe
Just seven weeks in, no one is winless in Spain and no one is unbeaten...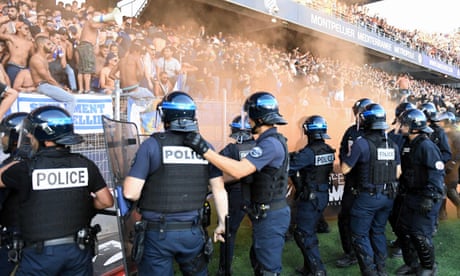 European club football
Oct 01, 2018
Crowd trouble and collapsed gate mars Montpellier's derby win over Nîmes
Referee halts game for 30 minutes because of disturbancesTwo people...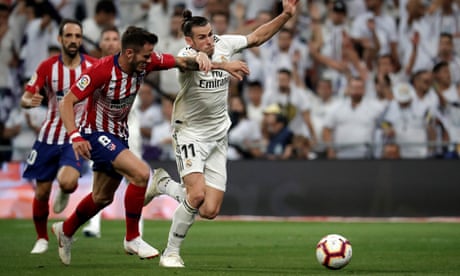 La Liga
Sep 30, 2018
Gareth Bale injured as Real and Atlético play out Madrid derby stalemate
Before this game began, Real Madrid's players were handed the trophies...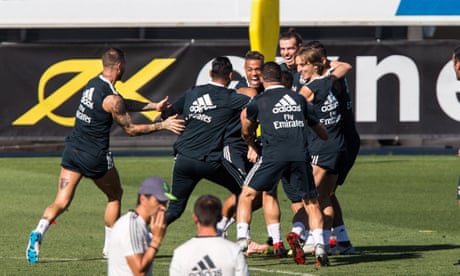 Real Madrid
Sep 28, 2018
Real Madrid 'up for the fight' in derby with Atlético, says Julen Lopetegui
Real Madrid looking to bounce back after Sevilla defeatMarcelo and Isco...
La Liga Table
| P | Team | GP | W | D | L | F | A | Pts |
| --- | --- | --- | --- | --- | --- | --- | --- | --- |
| 1 | FC Barcelona | 38 | 28 | 9 | 1 | 99 | 29 | 93 |
| 2 | Club Atlético de Madrid | 38 | 23 | 10 | 5 | 58 | 22 | 79 |
| 3 | Real Madrid CF | 38 | 22 | 10 | 6 | 94 | 44 | 76 |
| 4 | Valencia CF | 38 | 22 | 7 | 9 | 65 | 38 | 73 |
| 5 | Villarreal CF | 38 | 18 | 7 | 13 | 57 | 50 | 61 |
| 6 | Real Betis | 38 | 18 | 6 | 14 | 60 | 61 | 60 |
| 7 | Sevilla FC | 38 | 17 | 7 | 14 | 49 | 58 | 58 |
| 8 | Getafe CF | 38 | 15 | 10 | 13 | 42 | 33 | 55 |
| 9 | SD Eibar | 38 | 14 | 9 | 15 | 44 | 50 | 51 |
| 10 | Girona FC | 38 | 14 | 9 | 15 | 50 | 59 | 51 |
| 11 | Real Sociedad de Fútbol | 38 | 14 | 7 | 17 | 66 | 59 | 49 |
| 12 | RC Celta de Vigo | 38 | 13 | 10 | 15 | 59 | 60 | 49 |
| 13 | RCD Espanyol | 38 | 12 | 13 | 13 | 36 | 42 | 49 |
| 14 | Deportivo Alavés | 38 | 15 | 2 | 21 | 40 | 50 | 47 |
| 15 | Levante UD | 38 | 11 | 13 | 14 | 44 | 58 | 46 |
| 16 | Athletic Club | 38 | 10 | 13 | 15 | 41 | 49 | 43 |
| 17 | CD Leganes | 38 | 12 | 7 | 19 | 34 | 51 | 43 |
| 18 | RC Deportivo La Coruna | 38 | 6 | 11 | 21 | 38 | 76 | 29 |
| 19 | UD Las Palmas | 38 | 5 | 7 | 26 | 24 | 74 | 22 |
| 20 | Málaga CF | 38 | 5 | 5 | 28 | 24 | 61 | 20 |